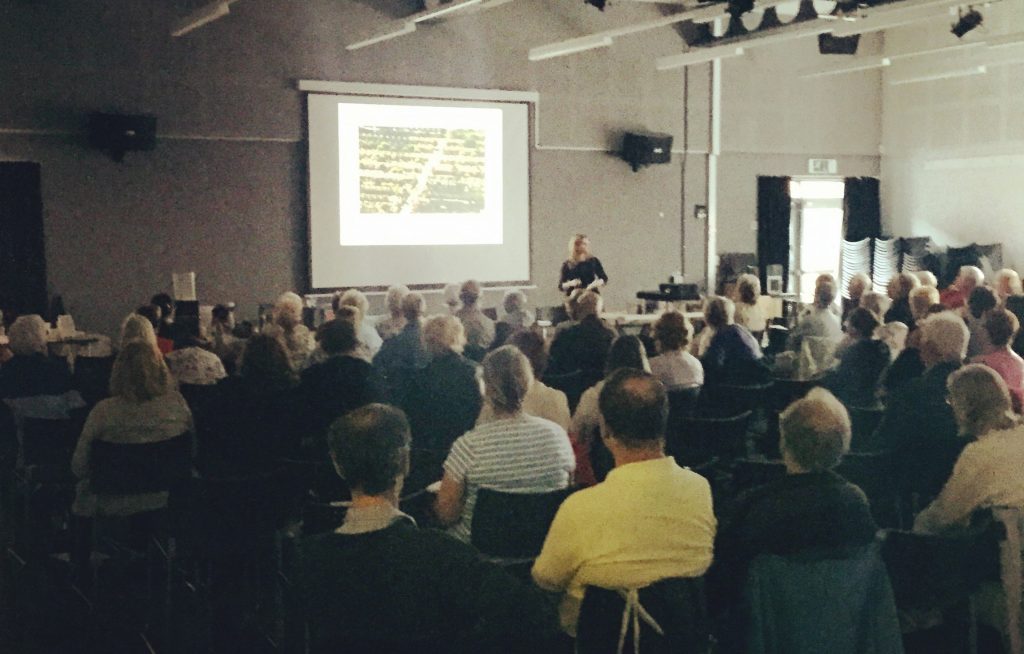 Melanie regularly gives talks and lectures about researching the history of houses, as well as historic subjects related to the history of property. She has spoken at public events, universities, and corporate events. To discuss availability contact here.
Coming up:
2024
To be confirmed
Previous events below [2007-2023]
2020-2022 online events [full list of events to 2023 below]:
FindMyPast at Home [First broadcast on 26 January 2022]
Exploring a home through time – online talk and discussion about 1920s houses and the 1921 census
Institute of Historical Research [First broadcast 25 November 2021]
IHR Partnership Seminar Series: Historians across Boundaries: Collaborative historical research
'A Day in the Life of…'
Buckinghamshire History Festival [podcast – First broadcast November 2021]
'Two House Historians Through Time: Melanie Backe-Hansen in conversation with Cathy Soughton'
FindMyPast from Home [First broadcast 5 May 2021]
House history chat with Ellie Jones from FindMyPast
Be Bold History (history teacher network) – [First broadcast 30 March 2021]
'House Histories: Discover the history behind your front door!'
FindMyPast Live [First broadcast 15 September 2020]
House history panel with FindMyPast team and Deborah Sugg Ryan
City of Westminster Archives [First broadcast July 2020]
Interview – A House Through Time and researching the history of houses
Tortoise Digital Thinkin [first broadcast live – 23 July 2020]
A House Through Time with David Olusoga and Melanie Backe-Hansen
Manchester University Press Armchair event [first broadcast live – 11 June 2020]
Researching your house history
Deborah Sugg Ryan and Melanie Backe-Hansen in conversation with Nick Barratt
FindMyPast Live [first broadcast live – 28 May 2020]
House History – Ask the Expert with Melanie Backe-Hansen
Past events:
2023
November 2023
"The history of Hinxton Hall, Cambridgeshire"
October 2023
Hoby & District Local History Society
"House Histories: The secrets behind your front door"
October 2023
Chelsea History Festival
'House Histories"
September 2023
Lewisham Heritage
"House History"
2022
Northamptonshire Family History Society Conference
House Histories – discover how to research the history of your house
Inspire: Culture, Learning and Libraries: Nottinghamshire
'House histories in Nottinghamshire'
KCWC: British and International Women in London
Researching the history of houses
Private corporate event
The History of No.5 Marble Arch and area
The National Archives
'From house to home: Mel Backe-Hansen's guide to the 20s home'
Part of the '20's People' series of events and exhibition to accompany the release of the 1921 census.
2021
Register of Qualified Genealogists Conference
Theme: 'Genealogy and Social History: Know your Ancestors'
Keynote speaker: 'Finding your ancestors at home'
Richmond Local History Society
'Tracing the history of your house'
The House History Show in collaboration with Family Tree Magazine
A full day of house history related talks followed by a series of online lectures in May and June 2021.
Devon Family History Society
'A House Through Time: Tracing the history of your house'
The Sloane Club, Chelsea
'The history of the Sloane Club'
North Devon Local History Society
'A House Through Time: researching the history of houses'
Saffron Walden Historical Society
'House Histories: Discover how to research the history of your house'
2020
The Art Deco Society
'Delving into the social history of Art Deco houses'
Winchester Heritage Open Days
A House Through Time: an interview with author and house historian, Melanie Backe-Hansen
[Watch on YouTube]
Society of One-Place Studies
'How to uncover the history of houses'
Institute of Historical Research: Centre for the History of People, Place and Community
'Houses, Homes and Histories'
2019
Chiswick Book Festival – Festival Extra
'House Histories'
University of Portsmouth – The Faculty of Creative and Cultural Industries
'House Histories: The Secrets behind your front door'

2018
HistFest 2018
'House Histories: Discover how to research the history of your house'
Gloucester History Festival
'House History: The Secrets Behind Your Front Door'
Gloucester Heritage Hub
2017
The London Library – members event
'House Histories Uncovered'

North West Kent Family History society – Sevenoaks Branch
'House Histories'
Peterborough Local History Society – Peterborough Cathedral
'Discover the secrets behind your front door'
Ideal Home Show – Olympia London
'House Histories: Discover the history of your home'
2016
Thames Christian College – London
Morning assembly to school – 'How I became an historian'

North West Kent Family History society – Dartford Branch
'How to research a House History'

Chiswick Book Festival
Authors launch party for the Chiswick Book Festival – hosted by The Chiswick Calendar
One of several local authors speaking about our books prior to the Chiswick Book Festival weekend

Bedford Park Residents Association
Launch event of Bedford Park House History Initiative – follow link to find out more
North West Kent Family History society – Bromley Branch
'The secrets behind your front door: Researching the history of houses'
Bath Spa University
Lecture for the history core module with first and third year history students
'London Streets and Squares'
2015
Huntingdonshire Local History Society
'The secrets behind your front door: Researching the history of houses'
Bath Spa University
'London Streets and Squares'
2014
Geffrye Museum
Fundraising event – after dinner speaker
Sungard corporate conference – after dinner speaker
'The History of Livery Companies and Livery Halls in London'
Wandsworth Heritage Festival
'Uncover the secrets behind the history of your home'
Kensington and Chelsea Forum – Campden Society
'The history of houses in Kensington and Chelsea'
Archives for London
'The secrets behind your front door: Researching the history of houses in London'
2013
Mobilising London's Housing Histories conference
Centre for Metropolitan History – Institute of Historical Research
'Living on the Shaftesbury Park Estate'
Bath Spa University
Heritage MA
'House Histories'
2012
Geffrye Museum
Living with the Past at Home: 'Stories to discover behind your front door'
Ideal Home Show
'House Histories: Discover the history of your house'
2011
Polo in the Park – private journalist event
'The History of Hurlingham'
2010
Listed Property Owners Club show
'House History: How to trace the history of your house'
2008
Hampstead House Histories – private event
See a highlight film here
2007
Who Do You Think You Are Live!
The House History stage in association with BBC London radio